By Leslie Capozzoli and Michelle Borton
From thousands of submissions, only 20 K-12 students are selected to present their compositions at the Michigan Music Conference's Honors Composition Concert. Two were Emerson students and one was an Emerson alum. Congratulations to composers Theadora Tolbert (2nd grade), Will Collin (5th Grade), and Anvit Rao (alum).
Two of the 20 students chosen from all of Michigan attend Emerson.
Theadora Tolbert wrote a composition entitled Walking Forward and invited her friends Chiara Bichakjian, Addie Kim, and Parini Rao to perform with her. Will Collins played his piano piece Tsouke's Dance. And Emerson alumnus Anvit Rao was also selected to perform his piano composition, which he calls Hide and Seek.
Also representing Emerson School were Jonathan Roberts, a trombonist, and Hannah Park, a violinist. Both were selected from over 2,000 students who auditioned to play in the All-State Band and Orchestra performances at the conference in Grand Rapids. These students had the opportunity to rehearse and perform with top musicians from around the country. Mrs. Borton and Ms. Capozzoli had the good fortune to hear the performances, and they were outstanding! The guest conductors did a terrific job helping the young musicians to play with a maturity and style far beyond the middle school level. Congratulations to you, Jonathan and Hannah!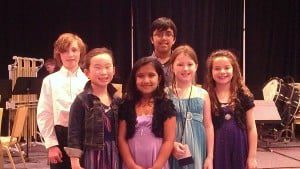 From left: Will Collin, Addie Kim, Parini Rao, Anvit Rao, Thea Tolbert, Chiara Bichakjian.