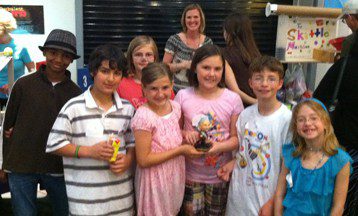 Do you NEED a Skittles Machine or a device to dispense a dog treat? Maybe not. But they sure are clever and amusing!
On May 21, several Emerson students displayed their Goldberg Gadget Science Fair projects at Ann Arbor's annual TechTwilight.  "TechTwilight is a science fair for adults that provides local companies the opportunity to show off their inventions and innovations to their families and their community," said Mel Drumm, executive director of the Ann Arbor Hands-On Museum, where the event was held.
Fun was the order of the evening and Emerson's Goldberg Gadgets – deliberately over-engineered devices that perform very simple tasks – were amusing counterpoints to complex fuel cell, video games and interactive technologies.  Want to turn on a light or press a button?  Emerson's got an ingenious answer!
The evening included interactive displays, live entertainment, music, food, and family activities including a museum-wide scavenger hunt and hands-on workshops.  For the tech leaders of today – and tomorrow – it was an evening to spark the imagination.
Read more about TechTwilight in this article that appeared in the Heritage newspaper:
"Children from across Washtenaw County learn about innovation at Ann Arbor Hands On Museum,"June 16, 2011.