How did you spend your summer vacation?
Emerson teachers give us some adventurous answers!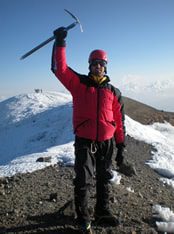 Andy Zimmer, 7th Grade Social Studies and Curriculum Coordinator, took a long, high hike to the summit of Mt. Rainier.  He and his group hiked to Camp Muir (10,100 ft) on a Tuesday afternoon, where they set up camp in the snow and relaxed for the rest of the day and then all day on Wednesday.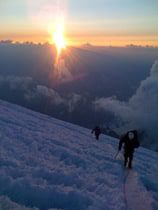 At 11 pm on Wednesday night, they set off for the summit with headlamps shining.  They made it to the summit of Mt. Rainier by sunrise and enjoyed a beautiful breakfast of freeze-dried turkey tetrazzini in the summit crater.  Turning around and heading back down, they made it to the car by 5:00 pm, a total hiking time of 17 hours!  "Definitely the coolest, but hardest, thing I've ever done!", says Andy.
Victoria Rondeau, 8th grade LA/SS and 6th-8th grade Latin teacher, headed to Rome for a summer of learning.  Admitted to the American Academy in Rome Classical Summer School, she studied the ancient city from earliest settlement to the time of Constantine.  She visited well-known sites – the Pantheon, Colosseum and Imperial Fora – and explored the hidden ancient city that remains under churches, in restaurant basements and hotel lobbies.  Watch Victoria's video!
Jeri Elie, French teacher, took 4 students, their parents and two college juniors who are Emerson alums to France for 10 lovely days. They hit all the classic Parisian hot spots: the Louvre, Le Musee D'orsay, les Champs-Elysees, Notre Dame de Paris, l'Opera etc. and then left for the provinces.  They visited the site of the American landing in Normandy and then traveled on to St. Malo, a walled medieval city on the Atlantic seaboard. A former pirate village, the fortifications are remarkable.  They explored a troglodyte village, visited chateaux in the Loire valley, went wine tasting and visited Leonardo da Vinci's final home.  A splendid  – and busy! – time was had by all!
Rob Bauman, 4th grade teacher stayed at the YMCA of the Rockies, a camp in beautiful Winter Park, CO.  In return for 28 hours a week of volunteer work – mentoring college-age staff and a lot of heavy lifting, he received room and board.  In his free time Rob backpacked to the top of the Contential Divide, rode his bike up Berthoud Pass, read, carved four walking sticks, and watched the sun set every evening, his favorite activity!