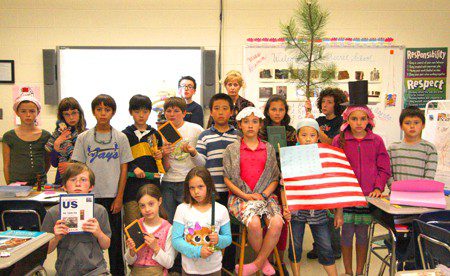 Emerson fifth graders recently traveled back in time to the 1860's, re-enacting a secret school for slaves. Their serious faces tell the story – the danger of forbidden education vs. the determination to learn.
Secret classes met at midnight as the plantation slept.  Teachers risked their lives to bring reading and writing to the slaves.
Like those long-ago children, the fifth graders studied Aesop's Fables, read from a language primer and practiced penmanship.  In exploring the historical context of secret schools, they examined the lives of children in the North and South, and learned about the geography of the Civil War.  True stories of two brave children, one who traveled to freedom in a box and one who became a Union bugler, won their hearts.
Deb Pulte, substituting for fifth grade teacher Jennifer Kime, brought history to life in the classroom.