Ann Arbor – At 8:30 am on Fridays, Emerson 4th graders reach across the world to the Grace Center, a girls' orphanage in Sri Lanka.  Linked via Skype, Rob Bauman's students share music, math and English lessons.  Research about Sri Lanka sparks questions and conversation. There's been marked improvement in the girls' English language skills over the course of the year, and  the Emerson students have learned Tamil words as well.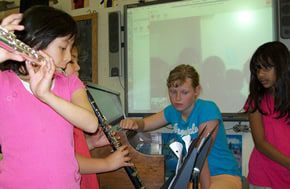 The students' commitment to the orphanage is running strong.  They recently ran in the Dexter Ann Arbor 5K, raising funds for their friends in Sri Lanka.
Naresh Gunaratnam, a classroom parent, was born in Sri Lanka and helped found the Grace Center.  Special thanks for inspiring this yearlong adventure in worldwide learning!