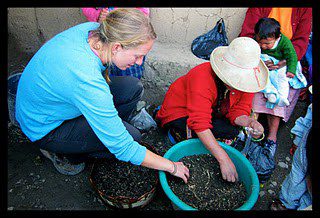 Emerson applauds our awesome alumni.  Following their passions and honing their talents, they are inspirations to all of us. Just a small sample of alumni in action…
Laura Chambers serves in the Peace Corps in a remote area of Peru, working to improve nutrition and health.  She chronicles her life in her blog, LCFlips in Peru.
Andy Johnson, a student at Cornell, likes birds – finding, listening, watching, photographing, drawing, and writing about them.  He is currently traveling in Chile, which he features in his blog,Birding Et Cetera.
Shelley Savant is the "den mother" of local music. She works at Encore Recordings and co-hosts WCBN-FM's long-running "Local Music Show" (9 p.m. Wednesdays, 88.3-FM). She books local talent in venues all around Ann Arbor, plays in various bands, and even has own label, Ginkgo Records.
Sharon Fox recently defended her dissertation at Harvard Medical School and MIT Health Sciences and Technology. She has been using imaging methods to identify patterns of brain responses in infants at high risk for developing autism.  Her sister, Michelle Fox, is doing her residency at Brigham and Women's Hospital in internal medicine.
Maggie Halloran was the first Skyline High School athlete to sign a Division 1 letter of intent.  She will be playing volleyball at Michigan State University.
Read about many more alumni.  And join us in saying, "Well done! You make a difference and make us proud."