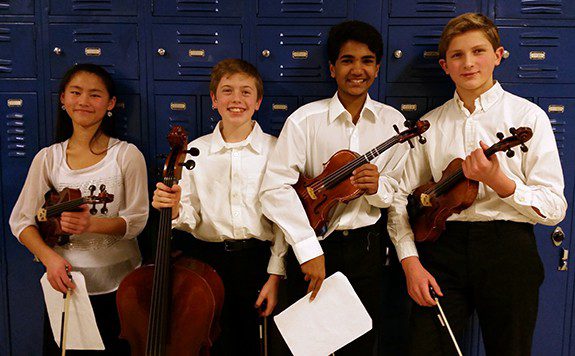 – By Leslie Capozzoli (a.k.a. Ms. C), Emerson Orchestra Teacher
Several of our 7th and 8th grade Band and Orchestra members performed on Saturday, February 7, at the Solo and Ensemble Festival in Livonia. Students performed before judges to receive valuable feedback, as well as a rating and a medal. We had 32 Emerson performances at the festival, and every one of them received a rating of 1 or 2 (the top scores on a scale of 1 – 5).
Mrs. Borton and Ms. C enjoyed watching the ensembles practice and prepare over the last few months. The students were largely self-directed and they showed terrific leadership and teamwork.  Congratulations to all of the students who performed!
+ See more photos on Emerson's Facebook page
The annual Solo and Ensemble Festival is organized by the Michigan School Band and Orchestra Association.
2015 Solo and Ensemble Festival Participants
Maya Akhoury
Erik Anderson
Delenn Bauer
John Byers
Ella Cunningham
Randi Jo Evans
Emma Hall
Lily Gillman
Nikhil Girish
Harrison He
Lukas Jonsson
Simi Kapila
Lian Krishnan
Anna Lorenzon
Milin Macha
Lindsay Michaels
Mobin Mazloomian
Ariel Mobius
Michelle Nicklas
Quade Pohlman
Michael Pelosi
Sarah Roberts
Ben Whiting
Katie Wu
Isabel Yi
Austin Zeglis
Justin Zhang