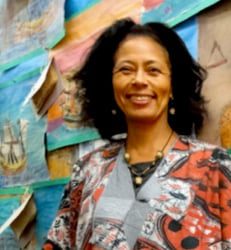 Judy Thompson-Barthwell, Emerson Lower School music teacher, has been named 2012 Music Educator of the Year by the Michigan Music Educators Association.  The award recognizes Judy's contributions and commitment to the profession and to the classroom.  The MMEA describes her as the "consummate educator" who has never stopped being a student herself.
Judy assisted the Board of Professional Teaching Standards to ensure that certification and testing reflect necessary benchmarks of music education.  She is active in MMEA, coordinating Summer Workshops, and in the National Association for Music Education.  An accomplished Orffclinician in demand at sites across the country, she works with the national Orff-Schulwerk Association and its Detroit chapter.  She spent a year studying in Salzburg, Austria, and in June she will be teaching a course to other music teachers in Orff pedagogy.
Emerson sings her praises.  Judy's passion for music, her warmth and wit, and her creative energy animate her classroom.  Students of all levels of skill, talent and experience find confidence and motivation in the learning environment she creates.  Judy has taught at the school for ten years.
A standing ovation for Judy!  The Emerson community applauds your wonderful work!