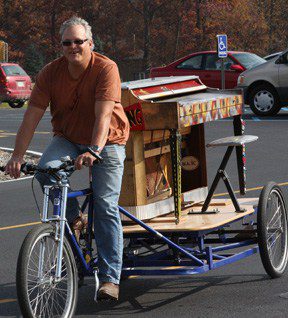 Across the parking lot came a man on a bicycle pulling a … piano!  Anything's possible!  And that's just the message Mr. B conveyed as he pedaled toward Emerson's fifth graders.
October 25 was a beautiful day for a parking lot piano performance.  Blues and boogie-woogie filled the school yard. Emerson's visitor, Mark Braun, is one of the world's finest players of a vanishing art form, an Ann Arbor treasure and a world-wide performer.  His commitment to arts education and arts scholarships, and his very personal and passionate musical expression hit inspirational chords with audiences everywhere.  This summer he biked across Michigan – with his piano – for the second annual Joybox Express Tour.  Follow your goals and your dreams!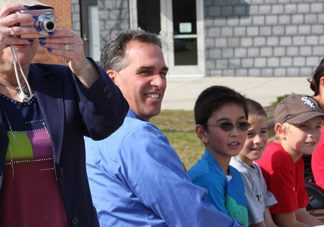 Mr. B's visit was part of the fifth graders' year-long Heroes and Heroines unit.  Students in Joyce Gerber's and Connie Weber's classes kicked up their heels in appreciation.  A little bit of dancin' in the streets!