Congratulations to 8th grader Molly Pribble on being named a 2014 Prudential Spirit of Community Awards Distinguished Finalist. In the past three years, Molly has helped raise more than $33,000 for the American Red Cross, and representatives from the Red Cross and Prudential presented her award during the weekly Middle School assembly at Emerson School.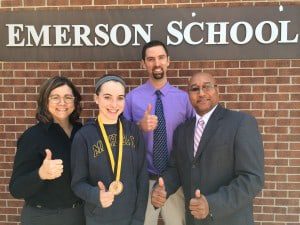 Earlier this year, Molly was recognized by CBS News Detroit for raising more than $12,000 in the 36th Annual Swim-A-Cross Plus for the Red Cross. She swam 354 lengths—more than five miles—during her nearly four hour contribution to the swim-a-thon.
We are so proud to see Molly recognized for her achievement and her commitment to community service.
Learn more about the Spirit of Community Awards
http://spirit.prudential.com/media/managed/Feb-2014-National-Release-FINAL.pdf