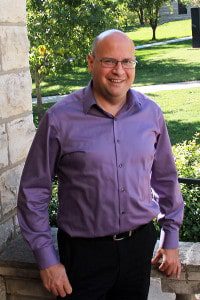 Welcome to Matthew McCoy
Matthew T. McCoy will be Emerson School's new Lower School Music Teacher and Chorus Director at the start of the 2014-2015 school year. Matt brings more than 24 years of teaching experience, most recently as a professor teaching future elementary and secondary music educators at Kansas State University.
"There is something magical about helping children make music," said McCoy. "Teaching at the collegiate level was delightful, but nothing can replace the energy, excitement, and creativity from young children learning and making music. This position at Emerson School, with it's focus on lifelong learning, creativity, and the arts, was the perfect opportunity to return to elementary education."
McCoy shares Emerson's belief that students learn music best by doing as musicians do: singing, playing, moving, listening, analyzing, improvising, and composing. His expertise in Orff Schulwerk pedagogy (both as a student and a certified instructor since 1999), experience incorporating multiple teaching approaches, and the ability to incorporate a broad range of musical styles set him apart from other candidates.
"The arts are incorporated into everything we do at Emerson," said Jerry Loewen, Head of School at Emerson, "so it was vital to find someone who could contribute to our whole child, joyful learning environment. At Kansas State Matthew has been helping set the standards for music education in schools, and we're excited that our elementary students will continue to learn from the best."
McCoy will replace Judy Barthwell, who is retiring after 12 years of teaching music at Emerson. Judy was named the Michigan Music Educators Association's 2012 Music Educator of the Year and a 2012 Michigan Youth Arts Touchstone Awardee.