By Kelly Vohland, Grades 4-5 Science Teacher, Science Olympiad Coach and Coordinator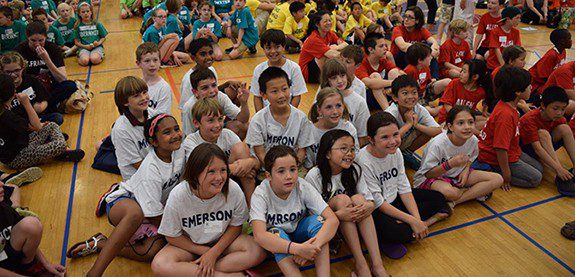 Congratulations to the 78 Emerson students who participated in this year's Washtenaw Elementary Science Olympiad, which was held on Saturday, May 30th, at Pioneer High School. With 38 schools participating, our grade 2-5 students represented Emerson so well—we are very proud of their participation and achievements!
CONGRATULATIONS TO OUR TERRIFIC SCIENCE OLYMPIANS: 
Grade 2: Robert Pandolfi, Ajay Purohit, Frederick Debord, Aidan Drain, Kiran Sinha, Pierce VanOyen, Anjali Brahmasandra, Violet Weizer, Jayden Im, Sophia Kleer, Julianna Heung, Maxine Bruienne, Naveen Owens, Preston Zabinko
Grade 3: Nikash Bhagat, Andrew Theisen, Eric Feng, Andy Zhang, Parini Rao, Abby Lee, Lucas Caswell, Derek Brewer, Max Finnegan, Adelyn Boucher, Emma Zamansky, Neel Moudgal, Carson Strauss, Lucas Nor, Anya Ankhoury, Ava Hall, Anne Marie Begola, Teddy Tolbert
Grade 4: Audrey Weizer, Alexis Gilby, Jonah Lee, Dylan Carvette, Jay Vijan, Elena Sweeney, Lily Kubisiak, Andreanna Ulery, Ava Hueng, Michelle Mobius, Lance Caswell, James Evans, Fee Tewodros, Anthony VanOyen, Veda Diptiman, Alexandra Ulery, Maya Mustata, Caleb Lee, Diego Del Rio, Yasmine Chugh, Katie Swallow, Kira Saporsky, Marin Heusel, Katarina Bauer, Anshi Pacha
Grade 5: Ryan Wang, Trevor Finnegan, Gabby Taichman, Audrey Chyung, Simon Spoor, MK Coolican, Julian Toogood, Arvid Jonsson, Luca Bichakjian, Erik Johnson, Kidus Tewodros, Robert Yang, Alexander Bauer, Cade Sachs, Andrew Ma, Daniel Zhang, Thor Helgeson, Adam Boucher, Kenichi Lobbezoo, Jack Bruienne, Tushar Chaudhary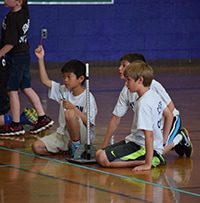 24 TOP FINISHES = MEDALS IN 70% OF EVENTS
Emerson placed in 24 events this year, including eight 1st place finishes, one 2nd place, five 3rd place, four 4th place, one 5th place, and five honorable mentions. In total, 79 percent of Emerson students earned top finishes in 70 percent of the events they competed in! Medalists include:
Grade 2: Estimania (Anjali, Sophia, & Jayden); To Infinity & Beyond (Naveen & Preson); On Target (Pierce, Aidan, & Kiran)
Grade. 3: Feathered Friends (Adelyn & Emma); Water Rockets (Derek & Max); On Target (Eric, Nikash, & Andrew); Disease Detectives (Neel, Carson, & Lucas N.); Mystery Architecture (Anne-Marie & Teddy); Estimania (Parini, Andy, & Abby)
Grade 4: Straw Tower (Alexis & Audrey); Water Rockets (Lance, James, Michelle, and Ava); Disease Detectives (Elena, Lily, and Andreanna); Potions (Anshi & Katarina); Circuit Wizardry (Jonah, Dylan, & Jay); On Target (James, Anthony, Fee); Reflections (Maya, Diego, & Alexandra); To Infinity & Beyond (Kira & Marin)
Grade 5: Disease Detectives (Luca, Arvid, & Erik); Potions (Adam & Kenichi); Circuit Wizardry (Thor & Daniel); On Target (Alexander, Robert, & Kidus); Mystery Architecture (Simon & MK); May the Force Be with You (Arvid & Julian T.), Water Rockets (Trevor, Gabby, Ryan, & Audrey)
THANK YOU TO OUR COACHES, VOLUNTEERS, AND SUPPORTERS
If you see a parent coach from Emerson, please take time to thank them for their time, commitment, and expertise. They are the reason Emerson students are able to participate in this great community-wide event.
Gr. 2-5 WESO Coaches: Sundu Brahmasandra, Natalie Goodwin-VanOyen, Scott Drain, Amitabh Sinha, Sonal Owens, Stephanie Zabinko, Pepijn, Bruienne, Pete Pandolfi, Varsha Moudgal, Ratindranath Akhoury, George Zhang, Bryan Begola Venkat Rao, Paul Boucher, Sean Theisen, Holly Dolbey, Rashmi Chugh, Morrie Lee, Joanna Kubisiak, Elizabeth Molina Sweeney, Ingrid Arias, Mircea Mustata, Luis Del Rio Trish Heusel, , Smita Patel, Gary Evans, Kelly Hom, Al Pacha, Vanna Diptiman, Kathy Salley, Mattias Jonsson, Maria Bichakjian, Gail Krieger, Pallavi Jha, Amy Nguyen Chyung, Abraham Chyung
Thank you to parents and friends who volunteered their time and skills at the event: Susan Taichman, Hanna Song, Michael Heung, Sujata Purohit, Weihong Xie, Nancy Benovich Gilby, Seth Swallow, Susan Torrible, Jeanette Clute, Silvia Nor, Andrea Zamansky, Brian Johnson, Kelly Sachs, Lars Helgeson, Beth Helgeson, Dana Debord, Janny Tang, Lisa Lee, Jennifer Weizer, Lisa Kutas, Allison Hong, Janice Carvette, Eleanor Sun, Isabel Wattles, (and Arnoud Lobbezoo, Robyn Bishop, and Charisse Gencyuz, who signed up but were not needed)
Emerson must provide an event supervisor each year. Special thanks to our two event supervisors from Emerson School: Susan and Keith Riles for Reflections and Debra Meyer for Potions.
Thank you to the many parents that helped with the ice cream party and brought food on Saturday—too many to name, but all help was appreciated!
And finally, thank you to Emerson colleagues who helped along the way: Kathy Salley, Robin Joye, Rose Hacker, Beth Muskiewicz, Joan Gregorka, and all the Emerson teachers who shared their rooms so we could practice!