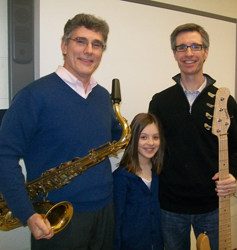 A story of a boy and the 1930's Great Depression hit a sweet, modern note recently as two jazz musicians visited Jennifer Kime's 5th grade classroom.  Special thanks goes to student Emma Throm who read Bud, Not Buddy, as part of a novel study.  Fascinated by the use of jazz music in the storyline, Emma arranged for her father, Peter (bass guitar), and Warren Widmayer (tenor saxophone) to come to class.
The jazzmen discussed the origins of jazz, the development of instruments, and, best of all, played a few tunes.
Thanks to all who took part in the improvizational, inspirational session.  Bud, Not Buddy is now a must-read for several 5th graders.
Bud, Not Buddy is a 1999 children's novel by Christopher Paul Curtis. The book is the winner of the 2000 Newbery Medalfor excellence in American children's literature, as well as the Coretta Scott King Award that is given in recognition of outstanding African-American authors.