This article was originally published in the Ann Arbor Journal.
"Helping and caring about others is what makes us human and humane."

Those are the words that Joyce Gerber lives – and teaches – by.  An active and ardent community volunteer for more than 25 years, Joyce inspires Emerson School 5th graders to get involved, reach out, and care about others.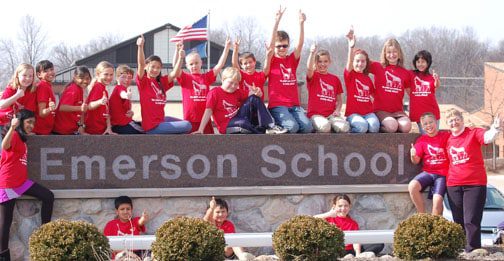 "We stick our necks out for others," says the class t-shirt with a happy giraffe on the front.  That's for sure.  In past years Joyce's classes have written and received Ann Arbor Community Foundation Youth Grants to do good in the community.  On April 12 they will run the 3rd annual Emerson-Red Cross Blood Drive.  Each year the class organizes and promotes the event.
Community Heroes & Heroines
Last summer Joyce asked herself a simple question – "Who are the individuals in our community who make large and small changes in peoples lives?"  That was the seed that has blossomed into a unique and popular unit for all Emerson 5th graders.  With input from her contacts throughout the area, she identified individuals who make a difference, and then invited each of them to the school to tell their story.
It's an impressive list of heroic visitors:
Aaron Dworkin, violinist, founder and president of Sphinx Organization.  He is an outspoken advocate for youth and minority participation and career development in classical music.  Among many initiatives, the Sphinx group sponsors summer training programs for string players and music programs in the Detroit public schools.  Aaron was recently honored as President Obama's first nomination to the National Council on the Arts.
Dr. Sam Zwetchkenbaum, a University of Michigan maxillofacial prosthodontist who repairs cleft palates
Cindy Annchild, Emerson teacher who was a Peace Corp volunteer in Iran
Dr. Ginny Nelson, who goes to Kenya to train medical people and volunteers every summer at a camp for intubated children
Jessica Baer, founder of UM chapter of Project Challah for Hunger
Dr. Silas Norman, Associate Dean for Admissions, Diversity, and Inclusion at Wayne State College of Medicine.  He was also a former Alabama State Director for SNCC (Student Non-Violent Coordinating Committee).
Dr. Ernest Fontheim, retired physicist from U of M and a Holocaust survivor.  He lost his parents & sister at Auschwitz, and survived by working, as slave labor, for the German government.
Mr B., Ann Arbor musician and all-round inspirer who plays a unique tune that anything's possible
The 5th graders send thank-you notes to their visitors and on Friday mornings they write in their journals about who was a hero to them the past week.  Were they heroes to someone?  That's noteworthy too.  Small things count – getting someone's breakfast, finding someone's glasses.
Joyce and her husband Steve were honored in 2009 by the Jewish Federation of Greater Ann Arbor for their contributions to the community.  She has been an active member of many committees within the organization and has been a Hospice volunteer for over 10 years.  She also volunteers at the UM Musical Society, Performance Network, Detroit Opera House, and Purple Rose Theater.
Joyce Gerber, community activist and creative teacher, would be on anyone's list of Community Heroes and Heroines!