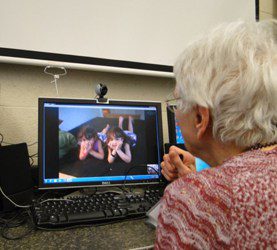 For several weeks now, a group of 5th – 8th graders has been teaching 11 senior citizens technology skills.  Welcome to InterGen Tech, a class offered by the Emerson After School Program.
InterGen class is about new technology and "old-fashioned" human connection. It's about young teaching old, and old teaching young.  It's a very special place to be.  Let's take a look.
Technology creates an awesome moment
Across the miles, a great-grandmother connects with her twin great-granddaughters.  It's the first time they've chatted on screen, and the girls share their day's activities and show their toys.  Wow.  Everyone is wearing a grin in the InterGen classroom!
Teamwork is critical.  We're all learners here.
Like all good teachers, the Emerson kids share their knowledge with each other. When one reaches an impasse, another is right there to help out.  "I love how your students work together," remarked one senior to teacher Connie Weber.
A new class takes flight
InterGen Tech is new this year.  Ready-to-teach Emerson students meet eager-to-learn seniors.  It's intergenerational, inspirational, and fun!