Emerson Fifth Graders "Speak for the Trees"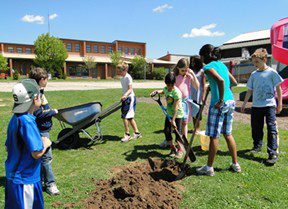 Ann Arbor – The day blooms sunny and mild and Emerson's fifth graders go to work. They've spent several weeks studying trees and their vital ecological role. Each student adopted one particular tree to photograph, observe and describe. They've learned about the history of Arbor Day.
Now it's time to put shovel to earth and plant several specimens around the campus.
After surveying conditions and testing soil, the students work with Guardian Tree Experts to plant 5 trees and several bushes. Special thanks to Guardian for donating time and expertise, and toGlobal Releaf of Michigan for donating trees.
The students look forward to visiting the new plantings and observing their progress. Special laurels to Kelly Vohland, fourth-fifth grade science teacher, for a fun learning experience!