4th Graders Celebrate Unusual Milestone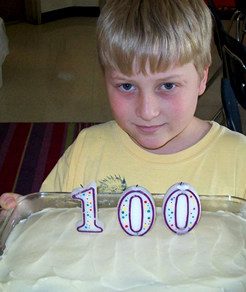 Ann Arbor – The running tally on the black board in Rob Bauman's 4th grade class tells the story – Rob makes mistakes!  And when he makes 100 of them, it's time for a quick celebration complete with cake and a round of "Happy 100th Mistake To You."  Everybody's happy.
And everybody's learning – that in a pressure-to-be-perfect world, luckily no one is; that it's okay to take risks, try new things, make mistakes; that Rob's classroom is safe and supportive.  And extra points for a bonus benefit: students listen more closely to catch mistakes… and have a party!
There's a lot to celebrate in Rob's classroom!