Emerson School is First in Ann Arbor to Utilize New Product in Classrooms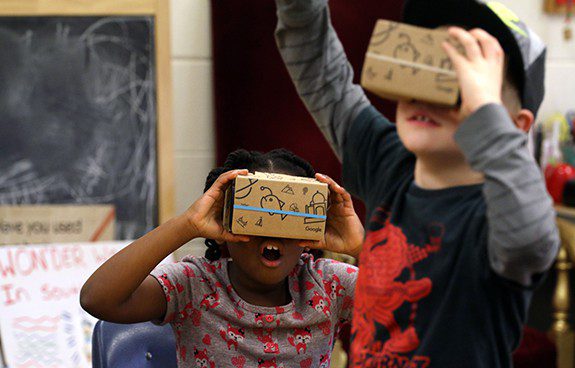 + See more photos at www.facebook.com/theemersonschool
+ Watch a video of 2nd graders on an Expedition
On Monday, Dec. 14, more than 200 Emerson School students traveled to destinations around the world on 3D virtual field trips. Google Expeditions provided 3D Cardboard viewers and phones for every student, a facilitator, and a tablet that allowed Emerson teachers to lead virtual journeys to historical sites, Mars, underwater reefs, National Parks, and dozens of other landmarks.
"It was super fun!" according to Emerson 5th grader Michael Mychaliska. "My class is getting ready to study the Civil War, so we went to a bunch of different scenes in the Battle of Gettysburg. The best part was that it was interactive—the image is all around you, everywhere you look—and teachers could point you to a certain place."
Eighteen classes of Emerson students were among the first in Ann Arbor to experience this new product, which combines virtual reality panoramas—360 degree photo spheres, 3D images and video, ambient sounds—with informative details, points of interest, and questions for students. Each Expedition took students to places that brought abstract concepts to life and gave a deeper understanding of the world beyond the classroom.
"This was an incredible tool for linking learning to real places," said Beth Nazario, Emerson Middle School language arts and social studies teacher. "We went to Gallipoli, in Turkey, and saw one of the best preserved WWI battlefields. As a class we were able to zoom in on tombstones and look at dates, and students really took to heart that some of the soldiers were only 13 or 14 when they died—the same age as them. You can look at pictures, but you can't understand the magnitude of these events until you do a 360, see the geography, and take in the scene as a whole."
Teachers appreciated the 130-plus destinations they could travel to with their class, covering a wide range of topics and interests already being studied in class. The accompanying annotations and curriculum, with contributions from the Wildlife Conservation Society, PBS, the American Museum of Natural History, the Planetary Society, and the Palace of Versailles, were robust and proved very helpful in guiding students through each Expedition.