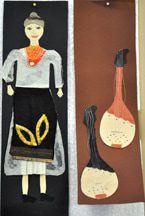 Libraries are true supporters of discovery and sharing throughout the world.  That's the lesson learned by Emerson's third and fourth graders in a bookmark exchange project with three schools in Croatia.
Did you know that the necktie and the fountain pen are claimed as creations of Croatia?
Under the guidance of school librarian Linda Lakshminarayanan, students crafted bookmarks telling about our holidays, UM football, state symbols and national history.  The bookmarks were sent to schools in Jastrebarskok, Varazdin and Vuka.  The students also made Power Point presentations to share with their Croatian counterparts.
Seventh graders joined in the exchange with bookmarks of collages made from magazines.
Colorful bookmarks reflecting the Croatian country and culture are on display in the Emerson Library, gifts of friendship and knowledge from a far-away land.