Great books enlighten and enchant, spark imagination and deepen understanding.  They offer answers even as they pose new questions.
On the evening of October 28, parents, faculty, and Ann Arbor community members gathered in the school library to discuss two great books, The Arc of Justice by Kevin Boyle and A Lesson Before Dying by Ernest Gaines.  The occasion was Emerson's first All School Reads, sponsored by the Emerson Diversity Committee.  With a distinguished panel drawn from the Emerson community, the group examined the life of African Americans in the 20th century as inspired by issues presented in the books.
Appreciation to our panel for their thoughtful and inspiring contributions: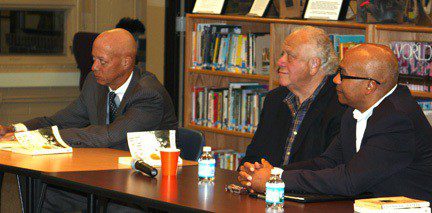 Magistrate Sidney Barthwell, husband of music teacher Judy Barthwell, Detroit magistrate, graduate of Harvard Law, and lifelong Detroit resident; Sam Thomas, father of seventh grader Mike Thomas, Detroit lawyer and realtor, graduate of Harvard Law, and developer of Grow Town that is helping to revitalize Detroit and other cities while offering opportunities for young people; and Kevin Gaines, father of 8th grader Maceo Gaines, professor of African and Afro-American history at the University of Michigan, and author of several scholarly works.