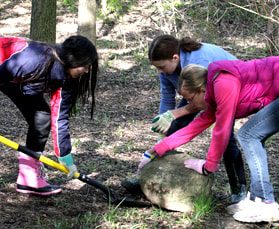 The first annual Emerson Earth Day Celebration stretched from morning to night, an all-day, all-out community event centered at our school and reaching to the skies.
The Emerson Nature Center was a buzz of activity as students, parents and staff wielded shovels, wheelbarrows, clippers and rakes.  A mountain of mulch was moved, invasives yanked, the boardwalk repaired, natural habitats enhanced.  Pat Petiet's garden was Roto-tilled as well.  Many hands make light work, they say – not to mention fun.
Later in the day there was a solar energy presentation  and the Emerson Astrodome was readied for its first ever viewing of the night sky.
By dusk, several University Lowbrow astronomers had set up their scopes, and even though the skies grew cloudy as they grew dark, many students and parents had fantastic views of the moon, Venus, Mars and Saturn.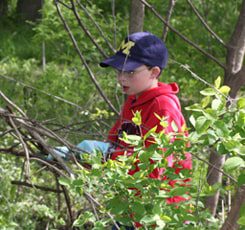 Seeds were planted – our first annual Earth Day Celebration! Here's to a thriving future for this special community event.
Tim Wilson, Middle School Science teacher, nurtured the Earth Day Celebration from the beginning, and his leadership and passion brought it to fruition.
Good going, good growing, Tim!