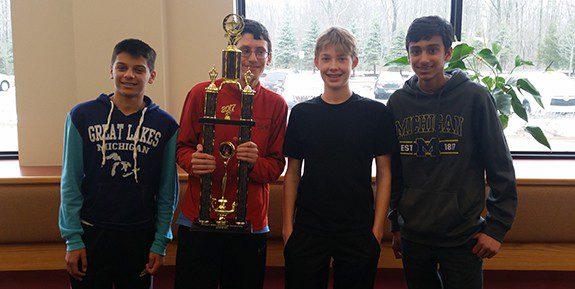 Emerson A Team – 2017 Quiz Bowl State Champs!
A team of four 8th grade students from Emerson School in Ann Arbor won first place at the Michigan Middle School Quiz Bowl State Championships. It took place on Saturday, March 18, 2017, and included 27 teams from throughout Michigan. This is only Emerson School's third year participating in Quiz Bowl competitions.
"It is a very friendly, civil competition, but we really wanted to win," said Zach Halberstam, an 8th grader and member of Emerson's A Team. "We played a great team in the final round. It was the fourth time we'd faced this team, and they beat us every time except this one—it felt really good."
Thousands of middle schools across the U.S. compete in National Academic Quiz Tournaments' Quiz Bowl competitions, which have been compared to team Jeopardy for students. Two teams compete head-to-head, racing to buzz in first and correctly answer questions from all areas of knowledge, including history, literature, science, fine arts, current events, sports, and popular culture.
"There's nothing better than seeing your students achieve their goals," said Bryan Seymour, Emerson Quiz Bowl Coach and 6th Grade Language Arts Teacher. "This team had been talking about winning States since they took 2nd place in 2016, and it came down to one final question in a close match. When our team answered it and secured the championship, the audience erupted. They'll remember that feeling for the rest of their lives."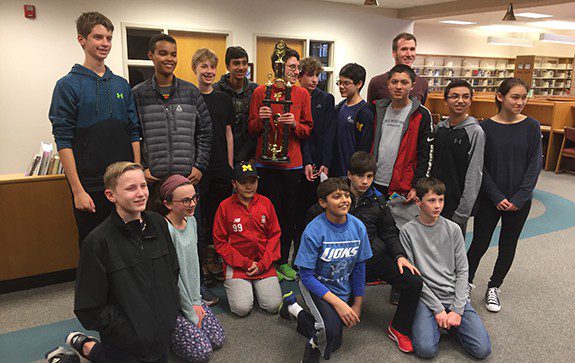 A total of five teams from Emerson School qualified to compete at the 2017 Quiz Bowl state championships, and four of the five teams finished in the top 10.
Team – Finish at 2017 MI State Championship:
Team Member (grade)
Emerson A – 1st Place
Zach Halberstam (8), Anders Ruiter-Feenstra (8), Shailen Chugh (8), Joseph Alphonso (8)
Emerson B – 6th Place
Esmé Cohen (8), Grant Murphy (8), Hayg Balis (8), James Ulery (6)
Emerson C – 9th Place
Maya Mustata (6), Mateo Gonzalez (7), Steven Theisen (8), Terence Ashforth (7)
Emerson D – 10th Place
Will Collin (8), Conor Pyle (8), Phillip Crumm (7), Julian Toogood (7), Arjun Bajaj (6)
Emerson E – 13th Place
Dereck Russel (6), Michael Needham (6), Kira Saporsky (6), Andrew Grier (6)
"I was very proud of all our students' performance and sportsmanship throughout the tournament," added Seymour. "They're not only strong competitors, but they win with grace and foster a positive and supportive environment."
The top teams 160 teams in the United States qualify to compete at the National Championship, which will take place in Dallas, Tex., May 12-14, 2017. Six teams from Michigan will compete at Nationals, including two teams from Emerson School.