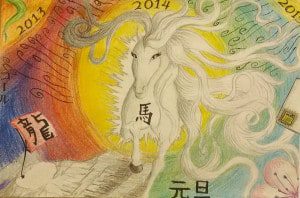 1st Place – Middle School Artistic: Cole Hildebrandt
Each year The American Association of Teachers of Japanese (AATJ) hosts the Nengajo Contest. Nengajo is a Japanese tradition of sending postcards to friends and families for Japan's New Year, similar to sending greeting cards in America, and students create their own nengajo artwork for the contest.
This year, the AATJ received 510 submissions from 122 schools across the U.S. Emerson is very proud of the students listed below, who placed in four of the 18 elementary and middle school categories, as well as all of the other students who participated. Congrats!
1st Place – Middle School Artistic: Cole Hildebrandt
1st Place – Elementary Original: Phillip Crumm
1st Place – Elementary Comical: Shane Roehrig
2nd Place – Elementary Comical: Will Collin
Runner Ups: Ryan Wang, Olivia Rasche
See all Elementary School Winners
See all Middle School Winners