By Michelle Borton, Emerson Band Director and Music Teacher
Emerson was well represented at the Michigan Music Educators Conference in Grand Rapids, MI.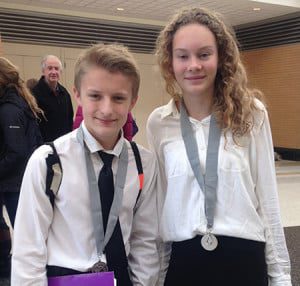 Congratulations to Ella Cunningham (oboe) and Josh Moss (alto saxophone) for their wonderful performance with the All State Band this past Saturday in DeVos Hall. Ella and Josh were recognized as two of the top middle school musicians in the state of Michigan. They joined 98 other talented students under the direction of Angelo Woo, Director of Instrumental Music at John Adams Middle School in Santa Monica, CA. The students also had the wonderful opportunity to have a question and answer session with Richard Meyer, a composer who wrote one of the pieces that the All State Band performed at their concert on Saturday.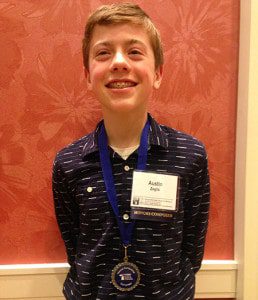 Congratulations to Austin Zeglis for being selected as one of the Honor Composition Winners for his rock composition, Ruby on Fire. From all the student submissions in Michigan, only 14 K-12 composers were selected to have their compositions presented at this concert. The MMEA Honors Composition Concert is an outstanding event that provides an opportunity for students to compose and perform original music. Austin was invited to perform his composition at the Michigan Music Conference, held in Grand Rapids, Michigan. This year's Honors Composition Concert took place on Saturday, January 23, 2016 in the beautiful Amway Grand Plaza Hotel in downtown Grand Rapids.
Congratulations also to our many Emerson Alums that performed in the Huron Band and Orchestra, the Huron Jazz Band, the Saline High School Band programs and the High School All State Band and Orchestra Ensembles. It fills our hearts with such joy to see you and hear what outstanding musicians you have become! We are so proud of all of you!