By Lenny Dale, Emerson Athletic Director and Soccer Coach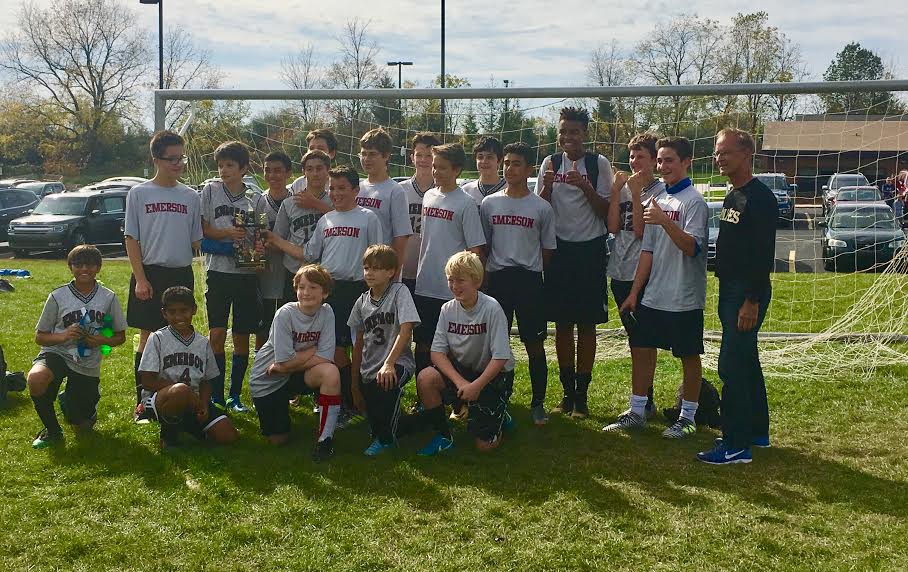 The Emerson Middle School Soccer Team wrapped up an undefeated season this past weekend, winning the AAIAA tournament to go with their regular season championship. This marks the sixth consecutive season championship for Emerson.
After enjoying a bye in the first round, by virtue of their first place season finish, the Eagles held Washtenaw Christian without a shot on goal en route to a 6-0 decision in the semifinals. In the final game, the Steiner School Storm jumped ahead early, on a well-placed shot from the corner of the 18-yard box which curled inside the far post. From that point the Eagles took control of the game, maintaining a large advantage in possession, denying any more scoring chances, and creating many of their own. Emerson drew even mid-way through the first half, when Noah took the ball deep down the right touch-line, then sent a fine cross to Trevor Finnegan attacking the far post, and Trevor out-touched the keeper to tie the score. The second half was more of the same, Emerson controlling the ball and creating chances, and eventually scoring the winning goal when Loui Gabaron drove a shot from inside the left edge of the penalty box over the reach of the Storm keeper and just inside the top right corner. From there, the defense took over, denying Steiner any sort of attack over the final few minutes, and the Eagles took home their third undefeated season in the past four, and their sixth consecutive championship.