By Coach Lenny Dale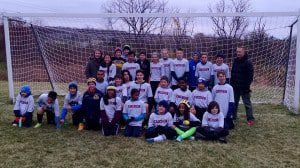 The Emerson Middle School soccer team finished off their season with a strong performance against rival Ann Arbor Christian (AACS). The two teams entered the final game of the year separated by two points on the league table, Emerson with six wins for 18 points, AACS with five wins and a draw for 16. A win by AACS would cause them to finish in first place, with 19 points.
The weather was brisk, to say the least, with the temperature dipping toward 40, coupled with 20 mph winds gusting to 30. The players of both teams seemed largely unfazed. Emerson got off to a quick start, pushing up into the offensive third of the field, pressuring the AACS goal, and then getting the important first goal in just the second minute of play. Brenan Dionne, who had been frustrated all season with many narrow misses, battled to a loose ball in a scramble in front of the net and buried it, to the delight of his teammates, who happily mobbed him on the way back to center.
Emerson continued to put steady pressure on AACS, but the score remained 1-0 as halftime approached. AACS managed one strong rush into the Emerson end, and got off a good shot, but Jack Finnegan was in perfect position to make the save. In the 21st minute, Mati Teklamariam received a wonderful cross, from deep on the right side, and one-timed it on the fly inside the back post, growing the Emerson lead to 2-0. Just moments before the whistle for intermission, Christopher Chuparkoff made it 3-0, and then, 3 minutes into the 2nd half, added another for a commanding 4-0 advantage. Midway through the period Grant Murphy got in on the scoring, with back-to-back goals in the 15th and 20th minutes, and the rout was on. Suzanne Chuparkoff, then Jack Murphy, and finally Gabe Kellman each scored in the final 10 minutes, and Jack Finnegan made a fine, diving save to his left as time wound down to preserve the shutout, sending the Emerson kids home with a resounding 9-0 victory and the school's 4th consecutive championship.
As impressive as the offense was, it was the Emerson defense that quietly and consistently confounded opponents. Over the course of 11 games, only eight goals were allowed, and five of the eight league games were shutouts. Captain Austin Sarns, Elliot Beck, Henry Branch, and Evelynne Crumm all spent the season on the back line, out of the scoring limelight but generally keeping the entire opposing team out that same light. Hats off to them, and the entire team, for their well-earned championship.