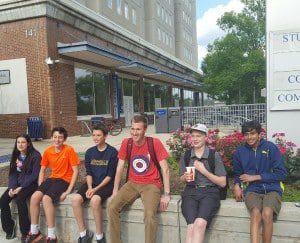 In just the second year of competing in National Academic Quiz Tournament's (NAQT) Quiz Bowl competitions, a team of Emerson students finished tied for 33rd in the nation. Proud Quiz Bowl coach Bryan Seymour helped sum up the magnitude of this achievement:
"We were 33rd out of 160, which is top 20 percent of those invited, which was top 15 percent of the country, so that means we were top 3 percent of the country," said Seymour. "[Emerson math teacher] Bill Wood taught me that math, though some Quiz Bowlers probably could have taught it to me."
Several thousand middle schools compete in Quiz Bowl, but only 160 teams make it to the National Championships. Emerson's finished second in the state to earn their invite to the national tournament. At the national tournament, qualifying for the final playoff round was a nail-biting experience.
"The second to last game came down to the second to last question, and the last game came down to the last question—we won them both!" added Seymour.
Quiz Bowl has been compared to team Jeopardy for students. Two teams compete head-to-head, racing to buzz in first and correctly answer questions from all areas of knowledge, including history, literature, science, fine arts, current events, sports, and popular culture.
+ Final National Championship rankings and game history
+ More about Emerson's 2nd place state finish
+ About NAQT Quiz Bowl competitions