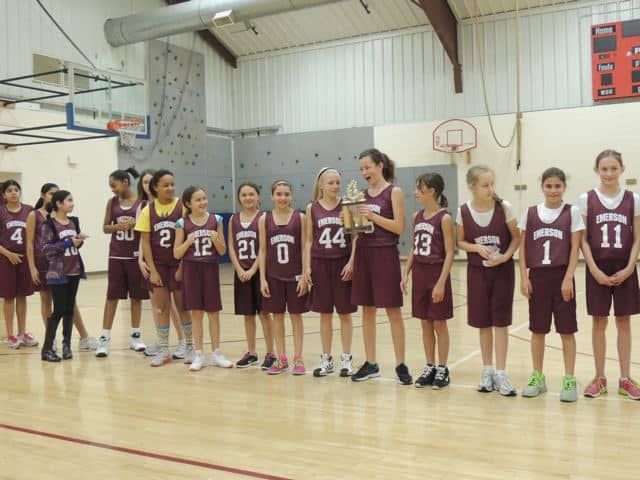 Congratulations are in order for the incredible Girls Basketball stars at Emerson School. Both the Junior Varsity and Varsity teams ended their season with top-three finishes in their respective tournaments.

Junior Varsity Wrap-Up (written by Lenny Dale)
Emerson School hosted the AAIAA JV Girls Basketball Tournament this past weekend, and the Emerson girls gave a very good accounting of themselves.
The Eagles opened the tournament against Christ The King, and held the Jaguars to 8 points on the way to an 18-8 victory.  St. Paul, the 3rd seed, had a tougher time with Spiritus Sanctus, the 7th seed, but came away with a 22-17 victory.
In Friday's first game Emerson faced #1 seed Steiner School, and stayed close through 3 quarters, before the Stars had a huge 4th period to earn the 39-16 win.  Second seed Ann Arbor Christian held St. Paul to 12 points in the next game, winning convincingly, 20-12.
The Eagles started this off on Saturday, too, this time against Spiritus Sanctus.  It took awhile for the girls to get things going, but the defense did the job until the offense got going, and Emerson prevailed, 17-11, eliminating the Saints.  St. Paul and Christ The King played next, for the right to face Emerson in the 3rd place game, with St. Paul moving on by virtue of a 20-12 score.
The championship game followed, between Steiner and AACS, and it was all Steiner from the opening tip.  Despite only having 6 players on their team, the Stars boasted 3 of the strongest players in the tournament, never seemed to get tired, and always had a competitive team on the floor no matter who was riding the bench.  Steiner took the crown with a 36-17 win, and AACS took a well-deserved 2nd place.
Emerson faced St. Paul to finish up the tournament, and after a rather up-and-down game, in which the Eagles led after one quarter 5-2. They fell behind 8-7 at the half, until the Emerson girls started clicking on both ends of the floor.  The defense shut out the Crusaders for the entire half, the offense started showing a little life in the 3rd quarter, and then Meera Baghat and Sabine Boutros sliced the opposition to ribbons in the 4th.  Meera finished with 13 points, Sabine chipped in 5, and the final score was 22-8.  The girls won the 3rd place trophy from the higher seed Crusaders by playing their strongest games of the season in the tournament.

Varsity Wrap-Up (written by Bill Schrock)
The Varisty team won their first game on Thursday and continued to the championship game on Saturday.  After a hard-fought game, which they ultimately lost, they came home with the second place trophy.  Congratulations all the girls and Coach Sarah Blacksher.
Way to go Lady Emerson Eagles! We're so proud of your hard work, sportsmanship, and teamwork!