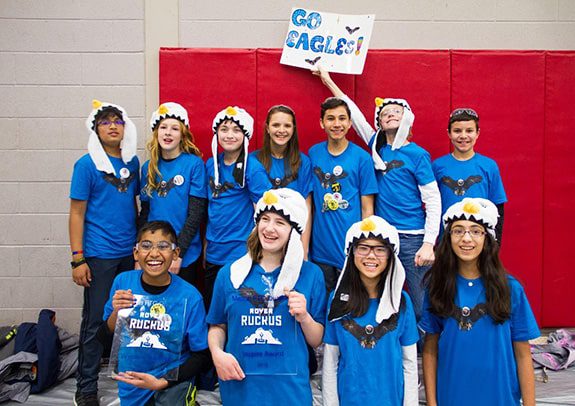 ONE OF 96 TEAMS ADVANCING TO STATE CHAMPIONSHIP
The Emerson School EAGLES robotics team (EAGLES), which competes with hundreds of other Michigan middle schools in the FIRST Tech Challenge (FTC) robotics program, is currently ranked 10th in the nation out of nearly 2,000 teams. The EAGLES team was part of the three-team alliance that took first place at the Dec. 1 state qualifying tournament in Mason, Mich., and students are now preparing for the State Championship on Dec. 14 and 15 in Battle Creek, Mich.
"Everyone on the team participated and came together at the Mason tournament," said Diego Del Rio, Emerson 8th grader and EAGLES team member since the Robotics Program was founded in 2015. "There were so many nights we stayed late practicing and ate dinner together, so I was glad to see it all pay off. Now we have a chance to qualify for the World Championships, but I'm just as excited to compete with and learn from some of the best teams in the country at States."
The EAGLES team is made up of 11 middle school students from Emerson School. It is one of 75 Michigan teams have already earned one of the 96 State Championship bids, with the final teams being decided after this weekend's last round of tournaments.
"This is only our team's second year competing at this level, so going to States is an amazing achievement," said Marchell Burgess, Robotics Program Coordinator and 4th grade teacher at Emerson School. "Our kids have really had to figure things out on their own because they don't have the high school support most teams do. I'm so proud of that and the character they've shown all along the way."
In the spirit of cooperation, all teams compete as part of two- and three-team alliances. At the Dec. 6 tournament, the EAGLES competed in the final round alongside the CSPA Miners from Brighton (the alliance captains) and the Classical Engineers from Bedford Junior High. In addition to being part of the tournament's first place alliance, the EAGLES were honored with the event's Inspiration Award, which is given to the team that inspires others, serves as a role model, is a top contender, and is a gracious competitor.
Emerson's two other robotics teams, which compete with other elementary school teams in the FIRST Lego League programs, also qualified to go to the State Championships. That means all three teams in the Emerson Robotics Program will be at States for the first time ever.
FIRST (For Inspiration and Recognition of Science and Technology) was founded in 1989 to inspire young people's interest and participation in science and technology. Based in Manchester, NH, the 501(c)(3) not-for-profit public charity designs accessible, innovative programs that motivate young people to pursue education and career opportunities in science, technology, engineering, and math, while building self-confidence, knowledge, and life skills. Visit http://www.firstinspires.org for more information.