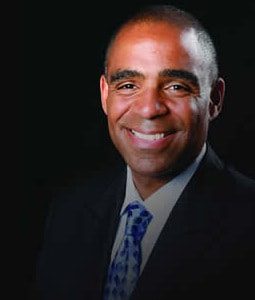 Aaron Dworkin is inspiration personified, and on December 13th he came to Emerson to share his story with 5th graders as part of their "hero" unit.  Each month they listen to a person who makes a difference in the community.
Mr. Dworkin is a founder of the Sphinx Orchestra and a Presidential appointee to the National Council of the Arts.
Let's turn our report over to Emerson students, Lukas Jonsson, Grace Carvette, and Samir Hafez…
Aaron Dworkin was born in New York and was adopted by a white family and he is African American, so he sometimes felt different as a child. He was raised in Hershey, Pennsylvania. His interest in music was sparked by his mother who loved to play the violin. When he started to play the violin he loved to practice, but around the age of 12 or 13 he said he hated to practice. Then his parents would force him to practice. He said that is what made him very good at the violin.
Mr. Dworkin was a violinist. But not just any violinist. He was the string musician who started the Sphinx Orchestra, an orchestra for people who don't have enough money to play in a normal group. What inspired Mr. Dworkin to start the organization was when he came to the University of Michigan he noticed that not many Hispanics and African Americans played classical music. Mr. Dworkin was appointed by President Obama to the National Council of the Arts. This gives him the opportunity to promote music education.
Mr. Dworkin brought his son Noah to Emerson on Wednesday. Noah helped read his father's picture book "The First Adventure of Chilly Pepperz" which is based upon Noah. We were all happy to have Mr. Dworkin and Noah visit, and they were very interesting. He is a kind and generous person. He is truly amazing.
Read more about the 5th grade "Heroes and Heroines"