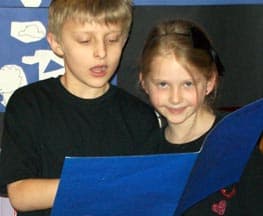 The poets surveyed the coffeehouse scene and smiled. Windows were covered with dark paper bedecked with moons, stars and coffee cups, and the lights were low.  Jazz played, a full-house audience awaited, strings of tiny lights twinkled.  This must be the coolest second grade around!
On March 22 second graders in Barb Grabbe's and Ruth Wilson's classes celebrated their original poetry with Coffeehouse Day.  Parents were the honored invitees.  In ones and twos the poets stepped up to the platform and shared their word creations. There were poems of lists, opinions, definition and color, with onomatopoeia, personification, similes, and strong verbs.
Words are fun, writing is art, performing is exciting… and the cookies-and-milk reception at the end of the hour was positively delicious.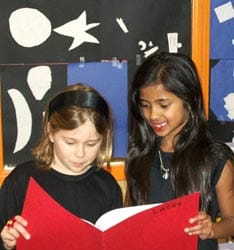 "The strong but
gentle feeling of
pink,

It looks so bright
it seems to wink."