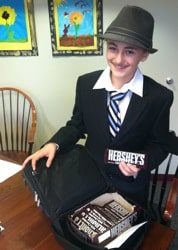 History walked the halls of Emerson last week.  Woodrow Wilson, John D. Rockefeller, Hirohito, and other well-known 20th century figures were spotted.  Did you see Milton Hershey and his box of chocolates?
Seventh graders recently completed the Emerging America social studies project in which each student researched a person from the 1900's.  Over the course of weeks, the students "became" their historical figure, striving to understand the work, beliefs, and impact of this singular individual.
The project ended with a job search for a modern day position.  Each student prepared a cover letter, resume and appropriate dress, and met with a school administrator for an interview.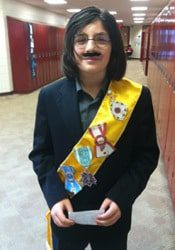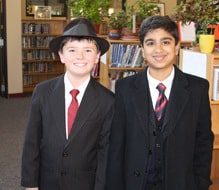 "Tell me about your experience and how it qualifies you for a Harvard professorship in jurisprudence," asked the interviewer.  "Woodrow Wilson" answered with poise, detail  – and a smile that history can be so fun.