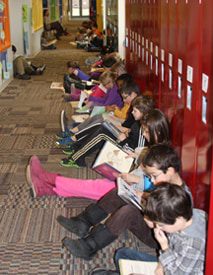 In classrooms and up and down the halls, in staff offices and around the library, wherever you looked, there they were – readers!  Emerson's All-School Read-In on February 16 was a quiet time dedicated to the wonderful world of words.  Students, staff, parents and visitors got into the spirit.
For this event Librarian, Linda Lakshminarayanan, put together an extensive and varied collection of books by African American authors, making a special foray to Nicola's Bookshop to keep up with demand.
Thanks Linda, for all that you do at Emerson!