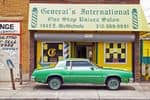 Artistic inspiration is everywhere – in the sound of a truck or the sight of a city.  That's the message behind Fusion performances.
Fusion brought their unique audio-visual presentation to Emerson recently, exploring the creative process with 4th – 8th graders.  Don Jones showed his photographs of Detroit and Ann Arbor.  Composer James Hartway discussed the creative process behind his City Scape Sketches.  A trio of musicians brought the piece to life with cello, piano and violin. Fusion!
The visit from Fusion was sponsored by the Michigan Arts Council and Cultural Affairs and the National Endowment for the Arts.  It was funded in part through Meet the Composers MetLife Creative Connections Program.
Fusion will return to Emerson in January for a community presentation.