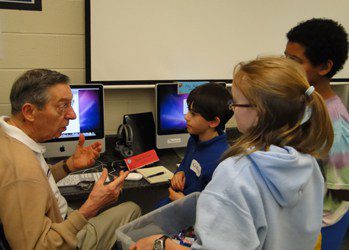 The Emerson After School Program recently launched a new pilot class connecting eager-to-teach students with ready-to-learn elders.  Here's to InterGen Tech, a collaborative intergenerational partnership focused on technology skills.
The first InterGen Tech class was a rollicking success as 5th – 8th graders teamed with 11 senior citizens in one-on-one digital learning sessions.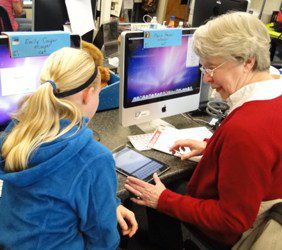 Cheerful collaboration was the spirit of the afternoon. "My partner let ME do everything," said one participant. "My partner has extreme patience," quipped another.
InterGen Tech continues for 7 weeks.  Everyone's eager; there's so much to learn!
Special thanks to Rose Hacker, Director of After School and Summer Programs; Connie Weber, 5th grade teacher; Renne Durrant, K-8 Technologist; and Jan Walker, Lower School Technology Teacher for creating a very special learning experience for young and old alike.