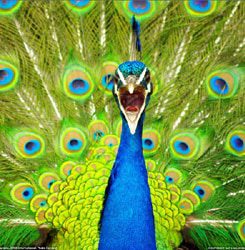 Students in Sarah Swiss' third grade gave their voices to dogs, peacocks, statues, and Vikings recently.  It was a laugh-filled, tech-savvy learning experience called Blabberize.  Ever heard a German Shepherd talk about Germany?
Each student wrote about a country and chose an image to "blabber" it.  They read their reports into a microphone, and before they knew it, the image was telling it to the world, or at least to the classroom!
Writing a report and mastering point of view, practicing pronunciation and reading out loud, hearing one's own voice – how much fun is that?