By Jerry Loewen, Head of School
Among the many inspiring moments at Emerson's 40th Anniversary Celebration and Groundbreaking was Peggy Wilson's tribute to our marvelous faculty members who have served Emerson for 10 or more years. Thirty-nine of our sixty-three faculty and staff were recognized and honored for their of passion, expertise, and dedication to Emerson School.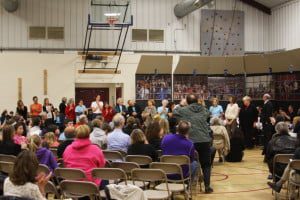 Looking at that assemblage of excellence, person by person, it is obvious the benefits we all draw from such an experienced staff. By the numbers, the average years of experience for our staff at Emerson School is 14 years. This is an incredible faculty that loves working together, loves working with your children, and loves the strong partnership you demonstrated with your long and loud applause last night.
10 – 14 YEARS
Jennifer Conn – 10
Sarah Swiss – 10
Mary Ellen Flaherty – 11
Judy Barthwell – 12
Leslie Capozzoli – 12
Beth Nazario – 12
Cynthia Annchild – 13
Carrie Berkley – 13
Miriam Del Valle – 13
Joan Gregorka – 13
Julie Moon – 13
Kathy Salley – 13
Rob Bauman – 14
Lee Horvath – 14
Mary Spaller – 14

15 – 19 YEARS
Sue Addy – 15
Janet Walker – 15
Kelly Vohland – 16
Gillian Ferrington – 17
Coral Lopez-Gomez – 17
Lenny Dale – 19
Jackie Ebels – 19

20 – 24 YEARS
Michelle Borton – 20
Deborah Hodges – 20
Victoria Rondeau – 20
Patricia Petiet – 22
Peggy Wilson – 23
Jeri Elie – 24

25 – 29 YEARS
Marcia Keys – 25
Linda Lakshminarayanan – 25
Joyce Gerber – 26
Barb Grabbe – 26
Bill Schrock – 26
Nancy Laitner – 27
Sigrid Bower – 29

30 – 34 YEARS
Nancy Dever – 31
Ruth Wilson – 31
Tim Wilson – 32
Connie Weber – 34