— By Michael Wilson, 8th Grade Science Teacher
Our community is invited to join Emerson 8th graders as they launch two High Altitude Weather Balloons (HAWB) on Saturday, May 2. Each helium-filled balloon will travel as high as 110,000 feet—the top of the stratosphere during it's one hour ascent.
Date: Saturday, May 2nd, 2015
Launch Time: 8:30am – 10:30pm launch
Recovery Time: 10:3oam – 1:00pm
Location: Hudson Mills Metro Park, 8801 N. Territorial Road, Dexter, MI 48130 (between Huron River Drive and Dexter-Pinckney Road)
Follow:
Weather Forecast: Partly cloudy and 71 degrees with a 20% chance of precipitation. 50% humidity and winds of 10mph. Good conditions to launch. In addition, the jet stream is currently well south of us, which means that we anticipate our payload to land within 20 miles of the launch area somewhere to the northeast.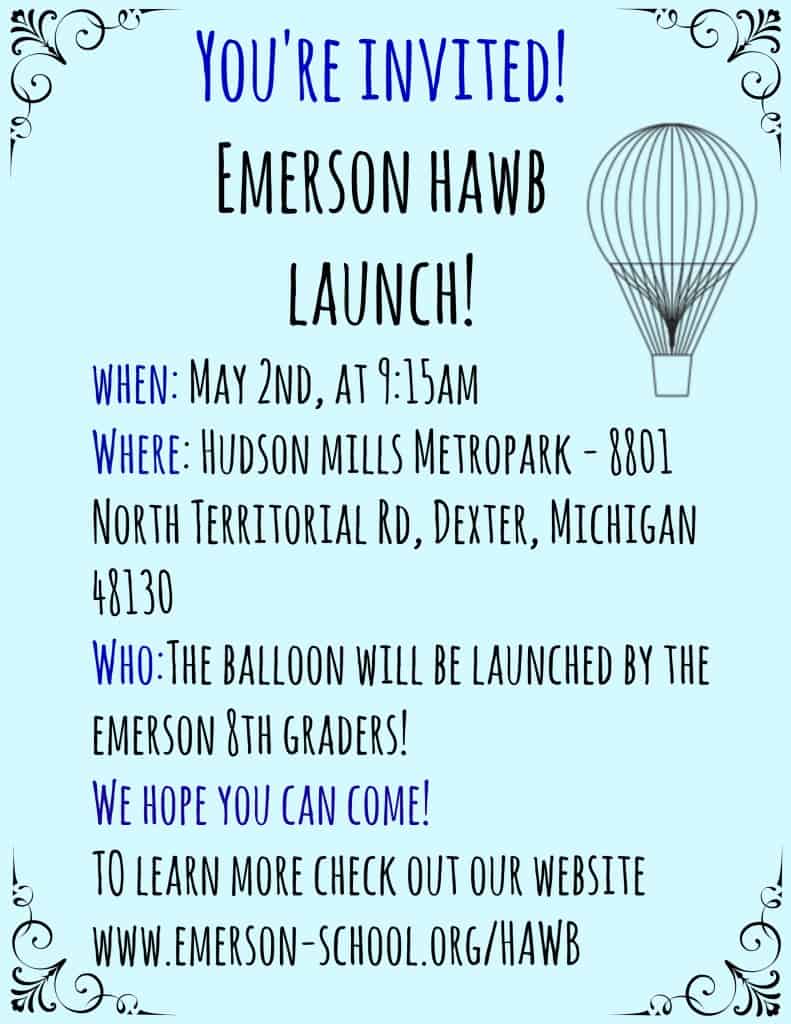 Each balloon will carry a high-quality parachute and a gondola. The gondola will hold GoPro cameras, experiments, paper "astronauts", and a GPS system for recovery. Balloons will be filled at the site with 274 cubic feet of pressurized helium, which will expand the balloon to a diameter of eight feet. Once the balloon has been fully pressurized, it will be attached to the parachute and the gondola, and then released.
If all goes as planned, each balloon will rise to between 80,000 and 110,000 feet (the top of the stratosphere), which will take approximately one hour. Due to much lower air pressure at this altitude, the helium inside the balloon will expand causing the balloon to expand to approximately 30 feet in diameter. At this diameter, the elasticity of the balloon will reach its maximum causing it to burst.
The "return" to Earth will take approximately 30 minutes and we'll await the signal of the GPS system to alert us of its location. That's when the recovery team jumps into action.
Everyone is welcome to watch. Please bring a lawn chair and your camera. It should be a fun day as we launch Emerson School's first high altitude balloons. In the meantime, every student in the 8th grade has played a pivotal part in getting these balloons ready to launch and they should be commended for their hard work, research, engineering, and efforts.
Should you have any further questions, please feel free to contact Michael Wilson.