– By Linda Lakshminarayanan, Emerson Librarian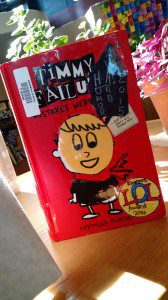 Every year, Emerson 4th and 5th grade students transform into literary critics. Each class chose a category for their award, designed a medal, nominated books, and narrowed down their final selections. They worked together to create posters that promoted their nominees ahead of the vote that would determine the winner.
Final voting was opened to all students in grades 2 – 8 (alas, seventh grade was unable to work the voting into their schedule). Votes were carefully tallied and the winners were declared on Monday, March 16, 2015. Below are the winners for this year's six Emerson Book Awards, along with their honor books.
New this year, Nicola's Books is creating a display with Emerson Book Award Winners at their Ann Arbor store, and we would like to thank them for their ongoing support of reading at Emerson.
The S.W.I.S.S. Award (Swissie's Wonderful Inventive Series Selection)
Best series of books – Sarah Swiss' 4th grade class

Winner: The Little House books by Laura Ingalls Wilder
Ranger's Apprentice by John Flanagan
Sisters Grimm by Michael Buckley
Guardians of Ga'Hoole by Karen Lasky
The Keep Calm and Read Action Adventure Books Award
Best action and adventure books – Marchell Burgess' 4th grade class
Winner: Harry Potter and the Sorcerer's Stone by J. K. Rowling
Gabriel Finley and the Raven's Riddle by George Hagen
Artemis Fowl by Eoin Colfer
The Tale of Emily Windsnap by Lisa Kessler
The R.A.G.A. (Rob's Awesome Graphic Award)
 Best graphic works – Rob Bauman's 4th grade class
Winner: Smile by Raina Telgemeier (also a winner last year)
Sisters by Raina Telgemeier
Drama by Raina Telgemeir
The Cliffhanger
Best mystery books – Jennifer Kime's 5th grade class
Winner: The Westing Game by Ellen Raskin
The Candymakers by Wendy Mass
The Name of This Book is Secret by Pseudonymous Bosch
The Fountain of Magic Award
Best fantasy books – Connie Weber's 5th grade class
Winner: Harry Potter and Goblet of Fire by J. K. Rowling
The Hobbit by J. R. R. Tolkein (a winner last year)
Fablehaven by Brandon Mull
HA! (Humor Award)
Best humorous books – Ellen Chenier's 5th grade class
Winner: Timmy Failure: Mistakes Were Made by Stephan Pastis (also won in 2014)
The Croc Ate My Homework by Stephan Pastis
The Awesome Almost 100% True Adventures of Matt and Craz by Allen Silberberg
+ See photos of each winning book with its award and promotional poster.